Dave Kelly
December 30, 2022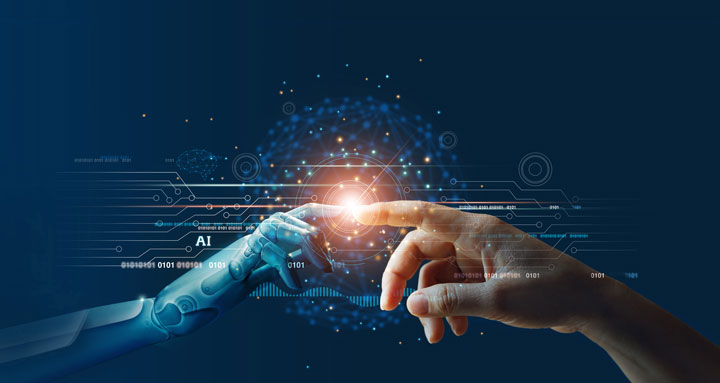 In a previous post we began a discussion about AI-Generated content, focusing on particular on the ChatGPT tool and the technology behind it. While we stand by our conclusion that such technology will not replace traditional searching, the existence (and growing sophistication) of such tools now allows for the possibility that webpages - and perhaps even entire websites - could contain content that is mostly generated by AI technology.
The $64 million dollar question is: would the presence of such content be an advantage or disadvantage to a site owner? The obvious savings in time and brain-power to get content on tap is attractive to many. And for those with poor writing skills - or those needing content written at scale - eliminating the expense of paying writers would make AI-generated content the obvious choice.
But we beg to differ. In fact, we see huge pitfalls and limitations in posting AI-generated content on websites.
LLM: Understanding How AI-Generated Content is Produced
A good reference for you: MLQ.ai. This is a site that brings together insights from science and technology experts to discuss all things related to the field of "Machine Learning." As this post indicates, LLM stands for Large Language Model. LLM models are essentially vast databases that have processed large amounts of information.
When queried, chatbots like ChatGPT get to work to search it's knowledge banks to get a handle on the language (words and phrases) that surround the topics being queried.
The goal is simply to mimic a human-like response in the reply given to the user. This is done statistically: the various algorithms and coding in place under the hood predicts what word should follow the last word given in the reply.
Issues With Accuracy and Timelines
That leads us directly to the first major issue with content generated in this way: there is no concern with the accuracy of the information given. The sole concern of the tool is just to put one word in front of another, choosing the most probable wording from all possible wording.
And here's another issue, closely related to accuracy: timeliness. ChatGPT was trained on content up to the year 2021. Facts, information, and phrasing used on the web after that date are not available to the tool.
That means that AI-Generators will not be able to frame replies relying on more recent (and especially late-breaking) information.
What Does Google Think About AI-Generated Content?
In a widely distributed video, Google's spokesperson John Mueller replied to questions regarding the use of AI-generated content for webpages. His statements are worth quoting at length below: (emphasis ours)
"For us these would, essentially, still fall into the category of automatically generated content which is something we've had in the Webmaster Guidelines since almost the beginning.
And people have been automatically generating content in lots of different ways. And for us, if you're using machine learning tools to generate your content, it's essentially the same as if you're just shuffling words around, or looking up synonyms, or doing the translation tricks that people used to do. Those kind of things.
My suspicion is maybe the quality of content is a little bit better than the really old school tools, but for us it's still automatically generated content, and that means for us it's still against the Webmaster Guidelines. So we would consider that to be spam."
In reply to a question could Google identify content written by machines he had this to say:
"I can't claim that. But for us, if we see that something is automatically generated, then the webspam team can definitely take action on that.
And I don't know how the future will evolve there, but I imagine like with any other of these technologies, there will be a little bit of a cat and mouse game, where sometimes people will do something and they get away with it, and then the webspam team catches up and solves that issue on a broader scale.
From our recommendation we still see it as automatically generated content. I think over time maybe this is something that will evolve in that it will become more of a tool for people. Kind of like you would use machine translation as a basis for creating a translated version of a website, but you still work through it manually.
And maybe over time these AI tools will evolve in that direction that you use them to be more efficient in your writing or to make sure that you're writing in a proper way like the spelling and the grammar checking tools, which are also based on machine learning. But I don't know what the future brings there."
He sums it up this way:
"Currently it's all against the webmaster guidelines. So from our point of view, if we were to run across something like that, if the webspam team were to see it, they would see it as spam."
Is it Worth the Risk to Fill Your Site With AI-Generated Content?
We think, based on the above discussion, that there is very little to be gained - and lots to lose - by relying on machine generated content to fill out your site's content. If you are like most site owners, you have put in a lot of time, effort and expense to get your site to rank for profitable searches. It can sometimes take years to reach the mountain top. Don't give in to temptation of producing content for your site via shortcuts - even high-tech ones.
If you must experiment with AI, try using it to generate a content outline or brief. Or even a first draft. But make sure that any content posted on your site is up-to-date, accurate, helpful to searchers and providing real value, backed up by expertise.
Machines are just machines (even digital ones) - humans are the only "writers" whose creations have any real-world value.
Looking to scale up your site's content production? Book a free discovery call with us to learn how we can consistently deliver Google optimized content to you at any scale.
Written By Dave Kelly
Dave was one of the pioneers of the SEO industry, long before Google even existed, and before "SEO" was a meaningful acronym. Dave brings extensive & long-running experience to the PosiRank team.
Dave has also been behind some of the most well-known & cutting edge tools in the SEO space for the past decade, and PosiRank is no exception.