Let's Dive Straight In Folks…
---
How to Boost Your Rankings for

ANY

Page The Next Time Google Crawls Your Site…
(This concept was brought to our attention by SEO Experts Jerry West & Michael Roper from SEORevolution.com who we highly recommend. Our process below includes some additional techniques/tips based upon our own results from tests).
---
Google's Hummingbird is a completely new algorithm that has created a HUGE advantage for SEO's to significantly increase their traffic by ranking for more phrases than ever before.
Hummingbird, in a nutshell, is a big upgrade from "Caffeine". This bird is very smart at understanding search engine queries especially long-tail keyphrases and most noticeably questions!
One of the reasons that Google has made this much-needed improvement is due to people asking more questions than ever before (thanks to Voice Assistants) like Siri, Google Now and Cortana.
Of course though, millions of questions are also asked in Google directly and this is what we're going to take advantage of, big time.
---
The Concept:
What you'll be doing is getting your pages to rank in Google for a TON of "question" queries that searchers are making in your market.
In other words, if a searcher types a question into Google and you have that question (along with a short, helpful answer) on your site, then you'll have a very high chance of ranking for it.
---
The Reality:
If you have 5-15+ relevant questions that people are searching for right now, along with helpful, accurate answers on every page you want ranked in Google, you'll see incredible results.
This directly takes advantage of Hummingbird's update and enables you to rank for MANY more long-tail keyphrases than you do right now.
(Very few sites are doing this, too).
What's really cool is that you're providing answers to people's burning questions…
Guess what that does?
It helps out the user (which is awesome). Google loves that of course and so you're delivering a lot of value to that searcher.
That puts the searcher in a likely position to take action on your site, such as commenting on a page, interacting in some form, opting into your newsletter or even making a purchase.
It's a big win-win for both sides – and especially yours!
---
The Results:
By implementing the strategy below you WILL find that your pages will rank for SO many more keyphrases than ever before. Your users will be happier than ever before and will stay on your site longer than ever before.
Remember. Google interprets these questions better than ever before. Our data shows that G falls in-love with your site and will rank it like crazy for so many keyphrases. This is a no-brainer and you can get started and make a change in well under 30 minutes!
Bonus: You'll also have a great chance at ranking in the Knowledge Graph as well for some queries – especially if you have an authoritative site.
For those who aren't sure, the image below highlights the Knowledge graph in Google: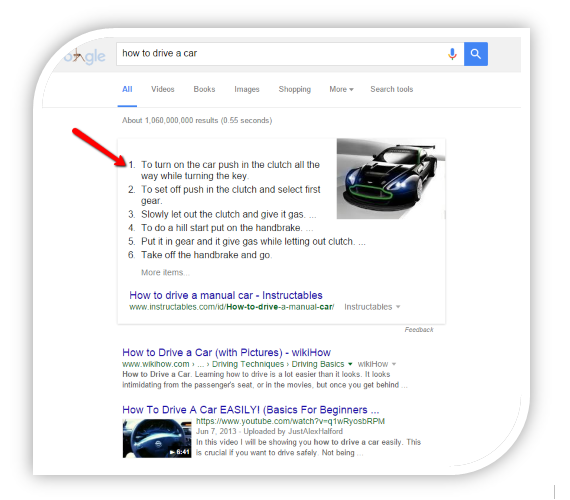 PLEASE READ!
In time, you want to apply this strategy to every page that you want to increase rankings for. The more pages you apply it to, the more keyphrases you will rank for which will result in (a lot) more traffic.
The good news is that it's a very simple strategy. Please don't over complicate the process, (and certainly don't avoid applying it!!) – it just takes a little research and some content creation.
Note: This will NOT work if your pages have duplicate, low quality content on them. You have to get rid of any duplicate content on your site – if you've ever copy/pasted content from other sites and put it on yours, it's time to replace that immediately with unique content. Fix unhealthy sites

---
Here's Your Step-by-Step Guide:
Step 1: Choose a Page That You Want To Rank for More Long-Tail Keyphrases in Google
For this example, we'll pretend we have a page on our health site about "link building".
Step 2: Write Down Your #1 Top Target (Broad) Keyphrase For That Page
Our top keyphrase would be:
Note: if the above keyphrase doesn't yield many results below, you're probably searching for a term that's too specific.
Type in the keyphrase you wrote down in Step 2 and select the correct Country.
Click on the yellow "Get Questions" link.
Step 4: Click "Questions" At The Top of The Results Page

Step 5: Dig into The Data & Start Writing Down Questions To Answer on Your Target Page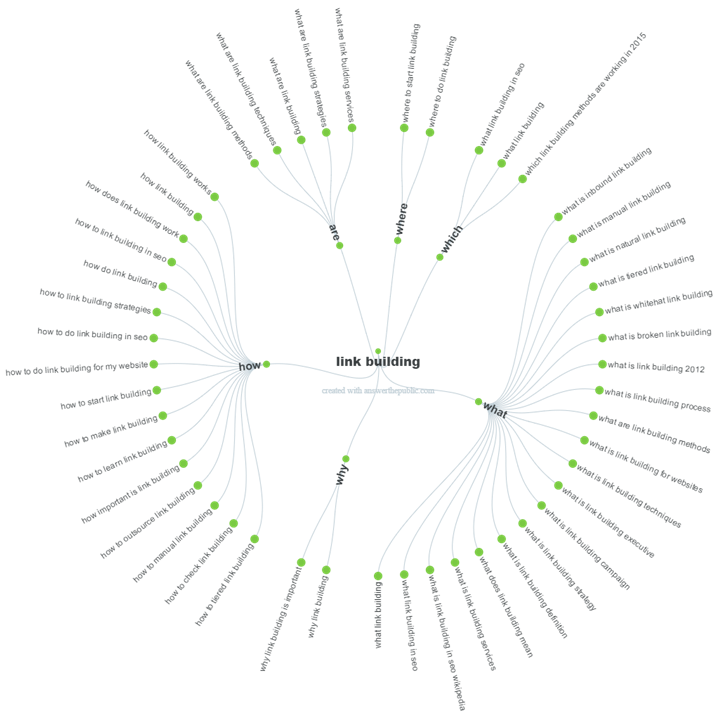 ---
Before we proceed…
Please realize that you can't (and shouldn't) write down and answer each and every question and put it on your site.
Some keywords you type in won't reveal many questions, others will show a lot. It's absolutely up to you how many you want to answer, but our suggestion is somewhere between 5-15. If you answer 40 your page is just going to look weird and out of place.
The strategy here is to select those questions that are MOST relevant to your market and your site.
Some of these questions won't make sense and that's not a problem. It's your job to take the context of the question and make sure it reads naturally.
For example – Do NOT put "What link building" as a question on your page.
Instead, you would simply change that to "What is Link Building?"
See what we mean?
---
Now, we're using a fictitious example in this case, but here would be some of the questions we would select from this list.
(Yes, we've changed some of the queries so that they actually make sense as explained above)
How Important is Link Building?
How Can You Start Link Building for Your Site?
What are Some Link Building Methods?
What is Broken Link Building?
Etc:
See what we're doing here? See how ridiculously powerful this is? As you can see, we're ignoring irrelevant questions like "What is link building 2012" or "what is link building in SEO wikipedia".
There will be questions like this, or you might even see "what" questions under the "how" section. Don't stress about these, ignore them and find the relevant ones.
As a reminder, what you're doing here is picking the most relevant questions from AnswerThePublic.com which you will then write answers for on your target page (chosen in Step 1).
(Of course, you can create a new page around the theme of "link building" (in this example) if you don't have one).
---
All you do next is simply answer these questions with a minimum of 60-70 words. If the answer deserves more than this, then definitely write more. More is better. Some of our questions have 400-500+ word answers.
Your answers MUST BE UNIQUE CONTENT otherwise this will not work whatsoever.
Many people ask us if it's necessary to check the search volume in Google Keyword Planner before adding it to their list.
Personally we think you should answer the question if it's relevant to your audience. It can't hurt you to do that, and the more questions you can answer, the more exposure you'll get it. If you want, you can lookup their search volumes for sure, we are just saying you don't have to.
---
Here's how you would lay it out (we suggest putting the questions & answers at the bottom of your content page, perhaps in a little "FAQ" section). It's as simple as it sounds.
For example, you would put this content on your page that's about "link building" – probably near the bottom, but honestly wherever makes most sense.
Q: How does Link Building Work?
A: Link building is the process of building links on websites that link directly to your site. There are many different ways of link building. For example, syndicating a press release across various News sites with a link pointing to your site is just one method. We just suggest building links on high quality sites for the best SEO results. Avoid accruing links from low quality sites as they can inflict penalties from Google.
Q: How Can You Start Link Building for Your Site?
A: One of the best ways to start link building is to find sites in your niche that you'd ideally like to get a link from. Then, send them an email asking if they would be interested in free, expert and unique content (written by yourself) that they can freely publish on their site to share with their readers. All that you ask for in return for this freebie content is a link that points back to your website. Make sure the webmaster understands that you'll write content for any subject of their choice.
Etc etc etc
It's really as simple as that!
---
Our Challenge To You
Do this process for just ONE page on your site.
Upload 5-15 questions and answers and check how many keyphrases you rank for next time your site is crawled in Google. More importantly, check your traffic too!
Ultimately though, you want to do this for as many pages as you can across your site(s). Don't get overwhelmed. Even if you added a couple of questions everyday you'll soon have hundreds more than you did last month.
Enjoy this killer tactic which is working TODAY – right now!
Cheers
~Alex Miller
PosiRank.com